Josslyn Kane Botan-sexy pilot of the river Styx
Custom video request: Botan Anime Character
Outfit: Long curly Blue hair in ponytail, pink kimono, light brown nylons or pantyhose. Character says "BINGO".
You are usually guiding the dead, but you have come to guide me to a massive orgasm. Act sexy and do closeups of mouth and face saying "BINGO" a lot explain that it makes everyone who hears your magic word extremely horny, but with a side affect. Be teasing like you are going to open your robe, but sitting down to make out with your nylon clad feet instead. At about ten minutes in open your robe revealing loads of poop in condoms (I used nylons bags) . Admit that the side effect was that saying "BINGO" makes someone extremely horny for making Botan orgasm… and… eating Botan shit.
Start making out with your nylon covered feet licking and sucking your feet and toes. All of a sudden just say a flurry of "BINGO'S!" and start acting overly erotic and talking about how you need to eat your cum and devour your shit. Furiously masturbate and start cumming. (if the massager with clit attachment works for good orgasm use that and dildos, fist fingers as needed)
Taking a break kneeling facing mostly away from camera as you shit onto the bottoms of your feet and have your head turned toward the camera with your finger pointed at your lips and say "BINGO" gently and ask me to eat your shit off your feet, Really plead… but then start the vibrator to masturbate to climax and start pushing the balls out as you are cumming then plop them in your ass and shoot them out 3 times. Lick the balls some and confirm that your wish came true.
Smear some shit on your toes and feet. Then eventually kneel again putting the fresh shit back on the bottoms of your feet look back at me smile point at me then point at your mouth holding half the shit log and say "BINGO" do this a couple of times with closeups of your feet with the shit log and your face with the shitlog entering in your mouth as you muffledly say "BINGO" many times. You say thanks for agreeing to eat Botan's shit for all eternity… it is a big help! smiling walk over smiling licking your lips and put your butt right up to the camera but look back so your face can be seen. (push the other half of log back in butt to be repooped) Smile and lick your lips and say sorry… I need to shit massive logs every 10 minutes or else I am sad and pout. Smile as the shit starts to come out… wink and start saying "BINGO eat my shit… eat Botan's shit" as fast as you can.
At this point act satisfied, but continue to chew lick play with your shit, pack on face, pack on pussy. Keep masturbating by all means including vibrator, until you are tired from cumming and or play.
Categories: JosslynKane, Poop Videos, Scat, Smearing, Pee.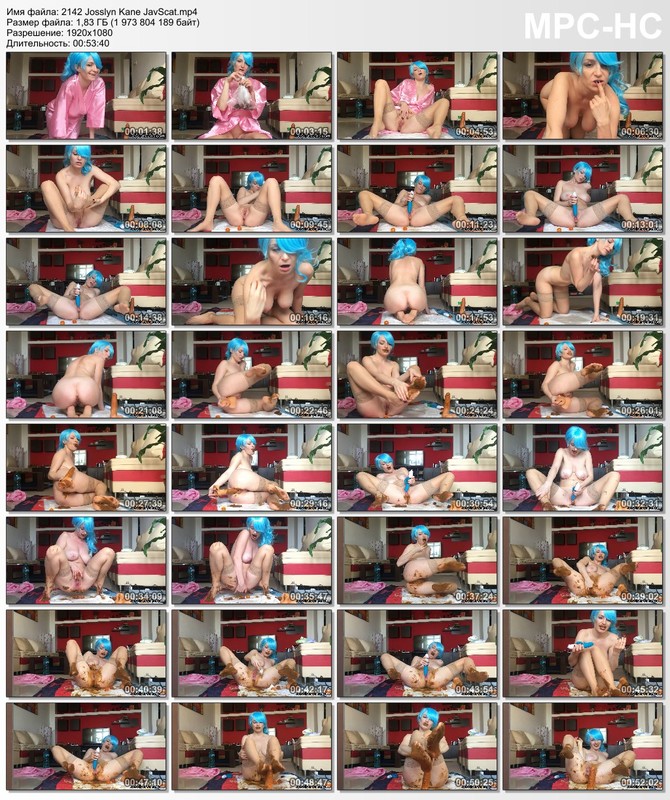 Download Links / リンクをダウンロード
https://fboom.ME/file/a8c7935f86503/2142_Josslyn_Kane_JavScat.part1.rar
https://fboom.ME/file/ee6a2a62dcbe3/2142_Josslyn_Kane_JavScat.part2.rar